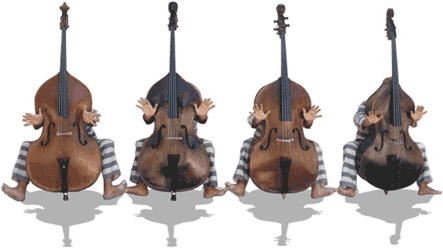 | | | |
| --- | --- | --- |
| | THE TRUE STORY | |
During the end of the last century, in the 90's, a gang of Double-bass players called



raged in Italy; with their big instruments, they stroke terror into bad night clubs,
as well as concert halls. They even succeeded in 'smuggling' two successful CD's :
"Live Recital" and "Flying Carpets",
which people bought, unaware of the risk they were facing.
They also damaged Chicago in 1996, and Portugal in 1997.
Their headquarters were hidden in the Symphony Orchestra of
"S.Cecilia National Academy" of Rome,an ingenious cover for the two dreadful
Tony Sciancalepore and Captain Pighi.
In the meantime, in Florence, Al Bocini the infamous Boss of the "Florentine Clan",
and of the Double-Bass players in the "Maggio musicale,
was trying to get the control over the trafficking of low notes : he was setting up the
NBB records
a record label and a internet portal, totally dedicated to the Double-Bass.
In 2002, the relentless Al Bocini even crossed the frontier into England,
lying down the law in the London Symphony Orchestra,
while the other 'Godfather' of the Florentine Clan, the cynical Amy da Signa,
called "Bernarda", was hiding himself in the A.Toscanini Orchestra of Parma
and in the Mahler Chamber Orchestra, to escape the numerous arrest warrants.
Finally, on December 2002, the roman gang Un'Ottava Sottosopra and the Florentine Clan
met and decided that their share in the booty's division was not enough anymore,
and that they had to join forces to gain the the monopoly over the low notes.

| | | | | |
| --- | --- | --- | --- | --- |
| So | | THE BASS GANG | | was born, |
a Poker of Double-Baces destined to go down in history for its bloody performances.
On 2003, after a punitive expedition in Japan, they prepared everything for the publishing
of their first CD entitled "Evasions & Fugues",
so making all the world suffer the shocking effects of their musical raids.