Studied at the "Conservatorio L. Cherubini " in Florence with Professor A.Brandiand continued under the guidance of Franco Petracchi.
He played as Principal in several leading italian and international symphonic and lyric orchestras, including Teatro alla Scala; Orch. dell'Accademia Nazionale di Santa Cecilia; London Symphony Orchestra. He is courrently Principal Bassist in the Orchestra del Maggio Musicale Fiorentino.
He recorded as soloist for Nippon-Denon, Velut Luna, Arts Music and NBBrecords,a label born from an idea by Alberto Bocini, a trade-mark which deals with the double-bass and its satellites.
---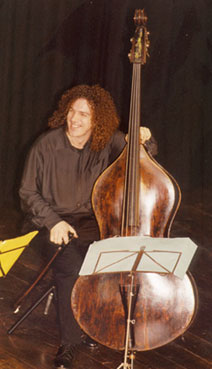 Si diploma a Firenze nella classe del M° A. Brandi e prosegue poi gli studi sotto la guida del M° F. Petracchi.
E' stato Primo Contrabbasso di prestigiose Orchestre internazionali: dall'Orch.dell'Accademia Nazionale di Santa Cecilia (Roma) all'Orch. del Teatro alla Scala (Milano), dalla London Symphony Orch.(Londra) all'Orch. del Maggio Musicale Fiorentino (ruolo che attualmente ricopre).
Ideatore e fondatore della NBB records , vera novità nel panorama internazionale: un marchio da lui ideato e dedicato al contrabbasso, etichetta discografica e portale internet in continua evoluzione, che con i suoi numerosi servizi è ormai riferimento per molti contrabbassisti.