Qui li vediamo alle prese con l'equipaggiamento leggero.
Nelle loro mani anche questi strumenti si trasformano in armi
pericolossime. Vengono usati sia nei periodi di reclusione in cella
durante la elaborazione e preparazione di nuovi diabolici piani
(si sono rivelati peraltro estremamente comodi durante le evasioni!),
sia per i raids micidiali nei quali impongono il loro spietato repertorio
senza che nessuno abbia lapossibilità di capire con cosa abbiano
realmente compiuto l'esecuzione.
---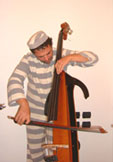 Here we see them handling the light equipment. In their hands
these instruments become extremely dangerous weapons. They can
be used both in a prison cell, for elaborating new and diabolical plans
(they have also proven very handy during jail breaks!), or in deadly
raids during which the players impose their merciless repertoire
without anyone being able to understand whith what they actually
performed the execution.
---